UCSF announces the creation of the Kunal Patel UCSF Innovation Fund in support of the Catalyst Program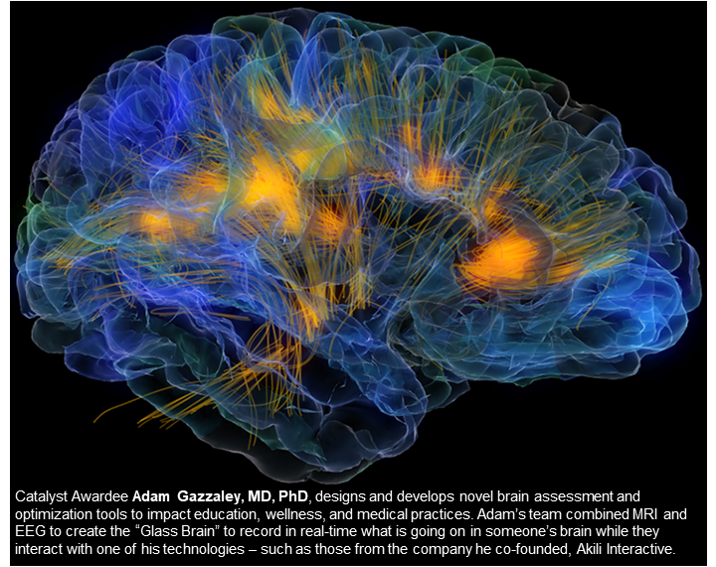 The Catalyst Program is UCSF's translational accelerator focused on advancing UCSF discoveries with clinical impact and commercial potential. The Catalyst Program aims to foster academic and industry collaborations as well as enhance education in early translational research and entrepreneurship. 

Catalyst Awards
The centerpiece of the Catalyst Program are Catalyst Awards that provide both industry advisor mentorship and seed funding to UCSF PIs with promising projects. The Catalyst Awards are focused on the development of therapeutics, diagnostics, medical devices and digital health.                             

Internships
The UCSF Catalyst Awards Internship Program provides an opportunity to learn about translational research and the process of advancing academic discoveries along the translational path to commercialization and patient benefit. The internship runs parallel to the Catalyst Awards Program and allows the interns to participate in the activities of the Catalyst Awards Program, the review process, and the interactions between the academic researchers and industry experts mentoring the projects along their development.
The program will introduce the interns to entrepreneurship and the industry perspective in evaluating the potential of scientific discoveries to lead to products, including: defining the unmet medical needs being addressed; assessing commercialization potential; opportunity for intellectual property; development feasibility for early-stage ideas; and defining key milestones on the development path. The program is of value to those interested in engaging in translational research and innovation and entrepreneurship in both the academic and industry settings.

Newsletter
The Catalyst Program Newsletter contains program highlights, success stories, funding resources, and upcoming events and opportunities. 
Browse newsletter and subscribe

Case Studies
Case-based teaching has been extensively used in business schools and offers an advantageous model for bridging the gap between concept and practice. To complement existing classroom training in entrepreneurship on campus, and to offer more flexible and modular learning opportunities to academic translational scientists, Catalyst program has developed a series of case studies as a part of the online educational curriculum. We identify the best representative cases (many from UCSF) aligned to the core principles of startup business, and interview the founders of these startup companies, in particular the academic innovators. These cases highlight the challenges and real-world lessons learned from academic translational research to commercially viable products.

Catalyst + Plus
The Catalyst Program expanded to Catalyst + Plus, a new addition that aims to provide additional support to past Catalyst projects with a successful progress yet still seeking business advice and/or supplemental funding.

Contact the Catalyst Program
For questions about the Catalyst Program please contact, [email protected] or one of our team members.