Rates and Invoicing (iLab)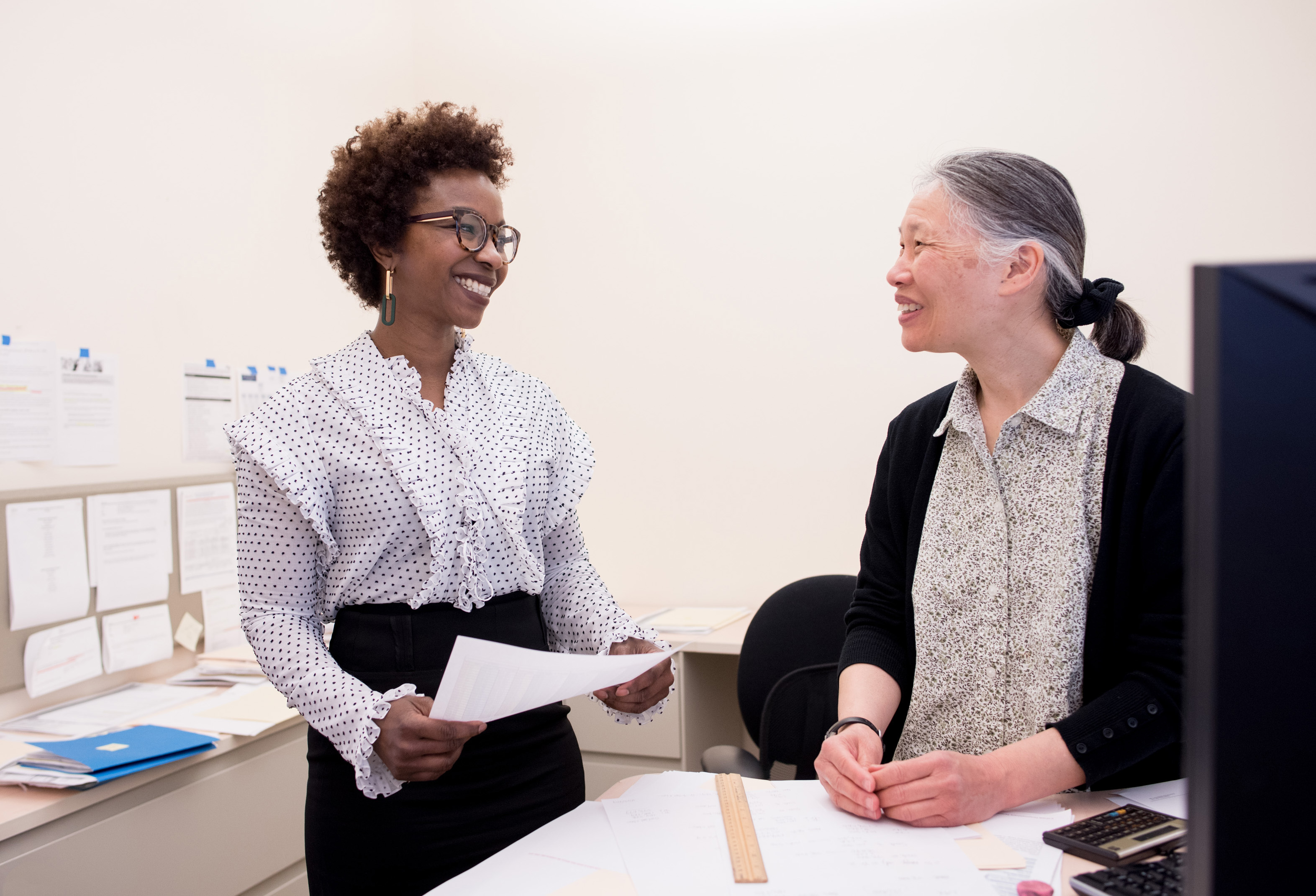 The Biospecimen Services Program utilizes the following approved recharge rates:
These rates were approved on 4/1/2022 and are estimated to change in 2023. Please factor into your budgets an additional 10% annually to account for inflation.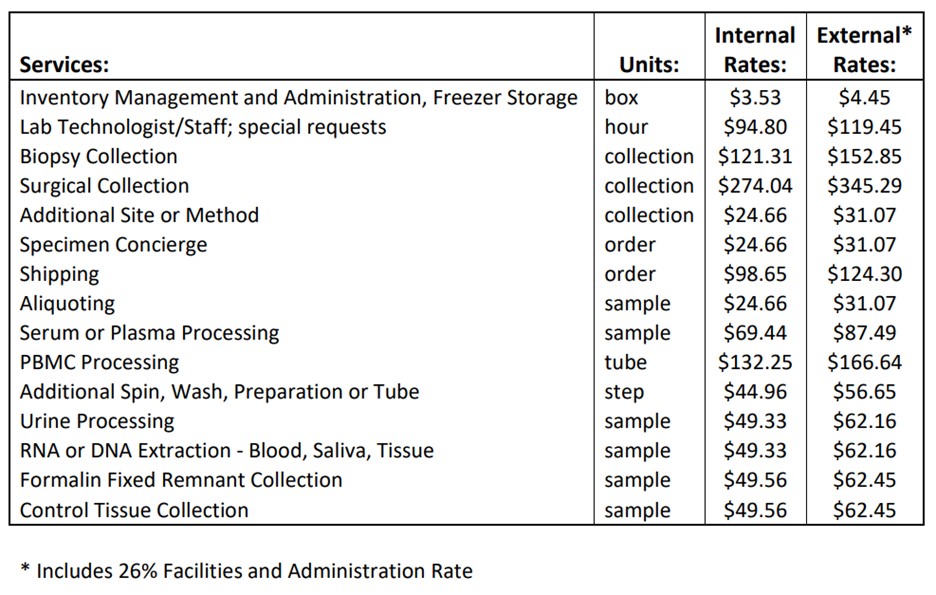 A full breakdown of all services offered by the Biospecimen Services Program is included in the table below:
Surgical Collection

A PA will acquire research tissue from a surgical specimen and prepare per researchers' request.

Includes:

Coordination with the operating room and rapid collection of specimen
Dissection and procurement of research tissue
Sample hand-off and intercampus courier services

Additional Charges:

External shipping
Blood processing
Long-term storage of specimens 
Tissue Preparation Kit

New Protocol Support Request
Three hours of staff time to review lab manuals, build out MBioLIMs database, and add to processing binder. Required fee for starting up all new studies.
Retrieve Samples from Biobank  

Sample pull requests are billed at our hourly rate.

Includes:

Sample hand-off and intercampus courier services
Manifest generation and database updates

Additional Charges:

External shipping 
On-demand courier

Biopsy Collection

A BSP SRA II will collect tissue from radiology/OR/clinical floors per researchers' request.

Includes:

Coordination and collection of biopsy tissue from clinical unit

Additional Charges:

External shipping
Blood processing 
Tissue Prep Kit (if no kit is provided) 
FFPE block generation

One-hour Delivery Courier Service  
Courier services for rush requests or large orders that do not fit in a standard courier cooler. Services billed at One Hour Delivery rate to requesting lab.
Tissue Preparation – FFPE block

All FFPE blocks generated by histology are subject to an additional fee at the rate set by the clinical histology department.

Blood Processing

Collections of samples at a single timepoint are charged the blood processing fee for general blood processing (serum, plasma, CBC). 

Includes:

Routine processing of all samples collected at a single timepoint 

Additional Charges:

Double spins, steps, or requested additives built into the processing protocol are subject to an "Additional prep step" charge
External shipping

PBMC Processing  

PBMC processing (from CPT or standard blood collection tubes) includes isolated PBMC's, and plasma generated during PBMC processing. 

Includes:

Sample hand-off and intercampus courier services
Freezing in Mr. Frosty containers 

Aliquoting Only 

Stand-alone whole blood and urine samples that are aliquoted only (no processing). 

*Note: Whole blood received with other processed blood tubes will be included with the "blood processing" charge.

Urine Processing  
Processing of urine samples to isolate cell pellet and urine supernatant.
Additional Prep Step  
This fee is for all additional steps requested in the protocol (i.e., additional spins, addition of assays, etc.) 
RNA or DNA Extraction  
Protocol not currently available, coming soon.  
Biospecimen Inventory Management and Storage  

Long term storage at the Mt Zion freezer farm is charged at a per box rate. Note: Tall boxes will be charged as two boxes.

Specimen Concierge  
Inter-campus courier service for samples not processed by BSP. Courier services are included with all samples processed by BSP. 
Technician Time Hourly  

Special processing requests are billed at our blended hourly rate in 15-minute increments.

Examples include:

Generation of manifests for studies (only for samples processed in outside labs)
Data abstraction/chart reviews
Creation of stock solutions 
STIMs 

Control Tissue Collection

Formalin-fixed tissue collection for control purposes only. 

*Note: If researchers request fresh control tissue, they should be charged for the surgical collection package due to the increased work and coordination required.  

Formalin Fixed Remnant Collection  
Remnant tissue from discard pathology specimens can be obtained for various research groups. This includes formalin-fixed tissue for missed cases that request this preparation method.
Tissue Preparation Set
Kit fee to cover all supplies provided by BSP for tissue collection events. If a kit is provided by the study team, this fee is waived.
All services are invoiced monthly through the iLab system.